Headmistress Press, January 2015
Buy a Signed Copy
For every book ordered directly from Lesléa Newman, she will donate $1 to the Cancer Connection. Order through PayPal below, or, if you prefer to pay by check or money order, send an email to leslea@lesleakids.com and she will provide address and instructions.
Or purchase from other sellers:
Book Trailer
Also available: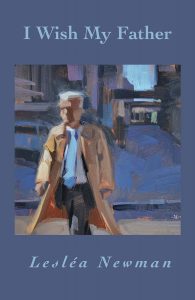 I Wish My Father
About This Book
I Carry My Mother is a book-length cycle of poems that explores a daughter's journey through her mother's illness and death. From diagnosis through first yahrzeit (anniversary of death), the narrator grapples with what it means to lose a mother. The poems are written in form (haiku, sonnet, etc.), completely accessible, and will resonate with all who have lost someone whom they dearly love.
Reviews
"Lesléa Newman's I Carry My Mother is perhaps best described as a love letter to her mother, Florence, who passed away from cancer in 2012. Yet from the first poem, 'Safe Passage,' to the last, 'I Carry My Mother,' Newman's latest collection of poetry will ring true for anyone who has suffered the loss of a dearly loved mother. In her latest collection, Newman explores her mother's illness and death, plus her own deeply experienced grief, employing simple language, realistic images and a wide variety of poetic forms. Interestingly, over a dozen of the poems were inspired by other poems made famous by Wallace Stevens, Dylan Thomas, Muriel Rukeyser and other well-known poets. My favorite of these is 'Letter from Mom, Postmarked Heaven,' which was inspired by 'This Is Just to Say' by William Carlos Williams. Its light, almost hopeful, touch is a welcome hint of a better life beyond, after a long time of suffering. However, perhaps most moving to those of us left behind is 'How to Watch Your Mother Die,' a spare, straightforward piece about tending to a loved one in his or her last days—and the tremendous emotional experience that is."
"These poems have a percussive insistence on rhyme, rhythm, and form that reflects both the relentlessness of mortality and a life's worth of turning to poetry at harrowing moments."
"In a passionate book, Lesléa Newman chronicles her mother's dying and the phases of her own grieving. She fuses an unsparing realism with lyrical intensity, in honest, direct, clear language, in mostly rhymed stanzas. The pages seem to tremble with an accurate description of changing emotional states, all born of the closeness, humor, and love in the mother-daughter relationship."
"After the introductory poem I thought 'oh dear, I'm going to cry my way through the whole thing.' And then, the exquisite first-rate poetry—using forms like triolet and rondeau—took me to a much deeper place than tears can possibly reveal. This is a very beautiful book."
"Throughout her long career, Lesléa Newman has distinguished herself by diving deep into the essentials of life and delivering them with a light touch. The poems in her new collection, I Carry My Mother, are both light and dark. They are small rituals that draw us closer to the child within, revealing the complex love between a vivacious mother and an independent daughter. Each verse is a spiritual chant; each line is a lyric glistening with grief."
Excerpts
My Mother Has My Heart
My mother has my heart and I have hers,
We traded on the day that she gave birth.
Each passing year the line between us blurs,
Until the day I lay her in the earth.
My heart in her now cracked and split in two,
Her heart in me now wound down like a clock,
As she and I turn into something new,
The love between us hardens into rock.
My heart in her a newborn mourning dove,
Still safely tucked inside its sheltered nest.
Her heart in me a letter signed with love,
A treasure I keep deep within my chest.
From this day forth whatever else occurs,
My mother has my heart and I have hers.
Copyright ©2014 by Lesléa Newman